‍Drawing‍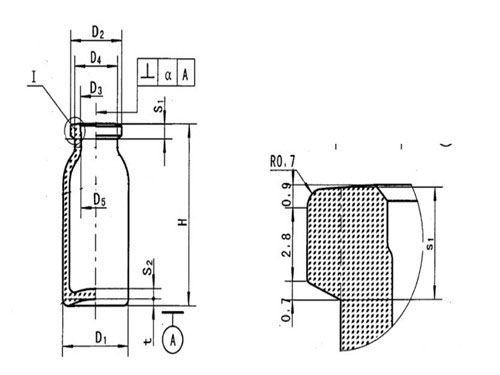 Moulded Injection Vial For Antibiotic:
1.Quality standard: Complying with China National Standard GB2640-90, equal to ISO8362-4.
2.Material: Soda-Lime-Silica Glass, type II or type III.
3.Using Range: Using for filling with insulin and antibiotic powder for injection.
Product Features
1.Hydrolytic Resistance shall comply with the requirements special for one of the following classes ISO 4802-HC2, HC3.
2.Internal pressure resisitance shall withstand an internal pressure of 600kPa when tested.
3.Thermal shock resistance shall withstand a thermal shock when subjected to a temperature difference of 42℃ in accordance with ISO7459.
‍Spscification ‍List
‍ UNIT: MM ‍